The most recent Poq platform release announced the ability for retailers to feature GIFs on their mobile app. Although, technically GIFs were created in 1987, even before the Internet, they've recently seen a huge surge in popularity. Our clients have been requesting this functionality for a while and here are just a few reasons why.
Communication for 'Generation GIF'
GIFs have become equally as acceptable as text and emojis as a form of communication, particularly amongst millenials. Facebook Chat, WhatsApp and even Tinder have acknowledged this evolution and adapted by offering the ability to send GIFs or even implementing a GIF keyboard, giving rise to the age of 'Generation GIF'.
Retailers seem to be following suit, adapting to their users' preference of communication. Retailers on the Poq app commerce platform can create a highly personalised experience by producing their own GIFs tailored specifically to their audience.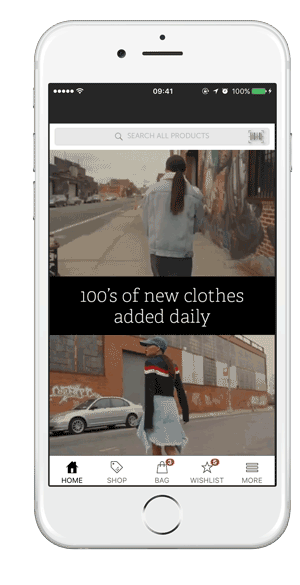 Grab your shopper's attention quickly
GIFs are an effective combination of videos and images, combining the best features of both formats. The most efficient use of GIFs on a mobile app is on the home screen, making it as lively and eye-catching as possible, which can draw in and engage users as soon as they open the app.
GIFs can be used to educate the shopper or to encourage them to engage with a certain feature. Retailers can showcase numerous items at once or feature app-exclusive offers without the user having to take any actions such as tapping or swiping.
We advise that GIFs are kept below 2MB per file or they could take longer to load and have a negative impact on the user experience. For customers who haven't downloaded the latest version of a retail app yet, it's useful to note that only the first frame of the GIF will be visible. This frame, should therefore be paid particular attention, and importantly project the brand and desired message.
Strengthen your brand across all channels
As most retailers strive for a truly omnichannel strategy, making sure that communication and brand personality is consistent across all channels is key. Many of the retailers on our platform use GIFs on their website, mobile website, social media and email campaigns so it's a natural progression to be able to implement this on their app too.
Although there is limited data to hand that demonstrates how effective GIFs are within apps, a study by Bluefly found that an email newsletter containing a GIF resulted in 12% more sales than an email without a GIF. We're predicting similar results across the platform and will be able to share insights once we have a substantial amount of data. Stay up to date by subscribing to our newsletter at the bottom of the page.
Reported by Natasha McGowan