Retailers offering well-executed apps are seeing their app commerce channel generate at least 10% of their online revenue, and if it's done well, retailers can truly reap the benefits. We held a webinar with Internet Retailing to reveal when a retailer has a business case for an app. Read our recap below, or watch the webinar to see additional case studies.
1. Mobile site is performing worse than your desktop site
Retailers should look at the performance of their mobile web versus desktop. In most cases, mobile web converts at around half the percentage of the desktop site.
The issue is not that users don't want to buy on their phones, it's just they aren't buying on that channel. If you add an app the picture, conversion goes up to the same as desktop and in some cases, higher.
2. Mobile traffic is growing fast
In the UK, around 50% of all traffic to retail websites is now coming from mobile, up 20% from last year. Looking at this trend, we can extrapolate how this will look in a year or two. The potential to have 70% or even 100% of traffic from mobile highlights the importance of creating the best mobile experience for the consumer, particularly if your mobile traffic is increasing.
3. You offer a loyalty scheme
None of us ever leave the house without a phone, so apps with digitised loyalty cards have the capacity to connect with the consumer via multiple channels, always, creating a single customer view.
House of Fraser offered a physical loyalty scheme and decided to integrate this into its shopping app. This makes collecting points and being rewarded for loyalty hugely convenient for its shoppers.
4. Your target demographic is millennials or early adopters.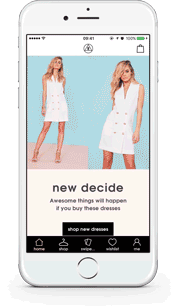 Millennials want to use apps. They want to interact with retailers via their phones like they do with Instagram and Facebook, where they can engage with exciting content and shop more conveniently.
Missguided designed an iOS app in response to their millennial customers' demands. The Tinder-style 'Swipe-to-Hype' feature adds engagement to the convenient shopping nature of the app, further incentivising their shoppers to download the app. The app now makes up over 13% of the online revenue.
If millennials are your target demographic, you need to be on that channel – you don't exist for them without an app.
To find out more about how apps can drive your retail business and see the case studies, fill out the form below to watch the webinar. You'll learn more about:
How convenience and engagement are key to a successful app, with case studies.
How technological integrations come together to develop retail apps.
More app statistics across retailers.
Reported by Rosie Dailly