Throughout peak trading 2015, the average person shopping from a mobile app generated 2.6x more revenue for a retailer than someone shopping from a mobile site. Retail app users also interacted with retailers 2.8x more often than customers using the mobile website.
To help you devise a great peak trading app commerce strategy, we put together some top tips for actions to take in the next months. These tips are based on findings of our Peak Trading Report, for which we analysed a sample of over two million app shopping sessions that took place across iOS and Android in Q4 2015.
How apps normally perform compared to mobile web & desktop
Before breaking down our steps for peak trading success across Q4 we need to understand the impact that peak trading has. We take a look at how apps perform on key metrics compared to mobile web and desktop.
App performance in Q2 2016

October
October is the month that sees the highest proportion of first-time users, compared to November and December. So this is the time to focus on heavily promoting your app.
Run app install campaigns through social media. Facebook and Instagram stand out as especially scalable app user acquisition channels.
Start using deferred deep links in your email communications to encourage downloads and trigger increased use of the app.
Get to know your customers: check the most wishlisted items and hours with the highest traffic. You can then use this information to optimise push notifications and merchandising in November and December.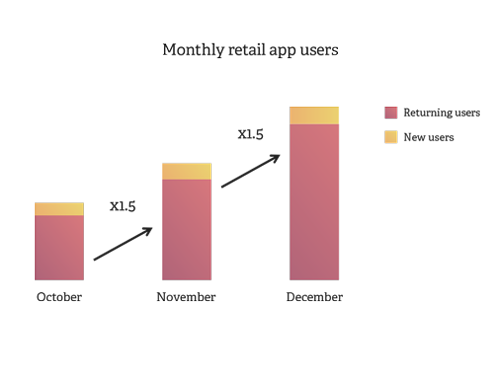 November
The average revenue per app user is 20% higher in November than it is in December or October, meaning that it's a good time to promote more premium items or incentivise larger basket sizes.
Devote resources to keeping the content within your apps fresh, adding app-exclusive categories and content.
Cyber Week: run discount codes that are valid for orders that are 15-20% higher than October's AOV.
Black Friday: promote the app in-store and encourage the use of the barcode scanner. Get more tips for Black Friday app commerce success here.
Cyber Monday: Run promotions that are only valid for a few hours, and add new product edits to the app.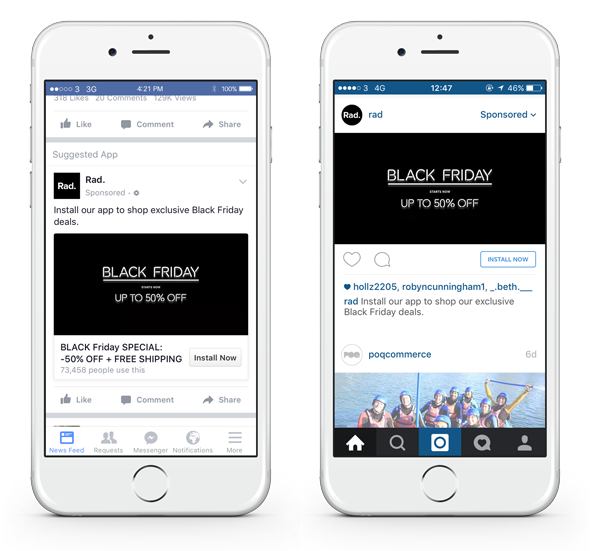 December
Make sure not to neglect the app after November. Last year, December saw the highest number of app transactions and the highest revenue of all of Q4.
Expect shoppers to be browsing their app around Christmas time, so make sure to keep refreshing content. The best way to do this is to schedule content changes ahead of time.
Run more app download campaigns starting December 24.
Find out how apps performed over 2016 & 2017
Request a copy of our Peak Trading Report 2017 below or send a query below.
Comments or questions are welcome.