As a recent global study by Deloitte noted, "We are rapidly approaching a time when there will likely not be a difference between online and offline. Retailers must think deeply about each country, its consumers, and the intricacies of how those consumers are adopting and consuming via digital."
This platform release makes it super easy to offer your most loyal customers a shopping experience tailored to their territory.
We've added comprehensive tools for app internationalisation to our platform. Retailers can now offer a flagship app for each territory and tailor it exactly to different audiences – on both iOS and Android.
Take your pick
Country selector or apps per territory
Retailers on Poq can opt to offer either a 'universal app' that allows users to change countries within it, or different apps in each app store that don't allow the user to change territories or currencies.
Both options allow for internal teams to create a completely tailored experience depending on the territory. We recommend opting for a 'universal app' that features a country selector, as it is more scalable in allowing new territories to be launched in succession. It also gives shoppers more options and flexibility.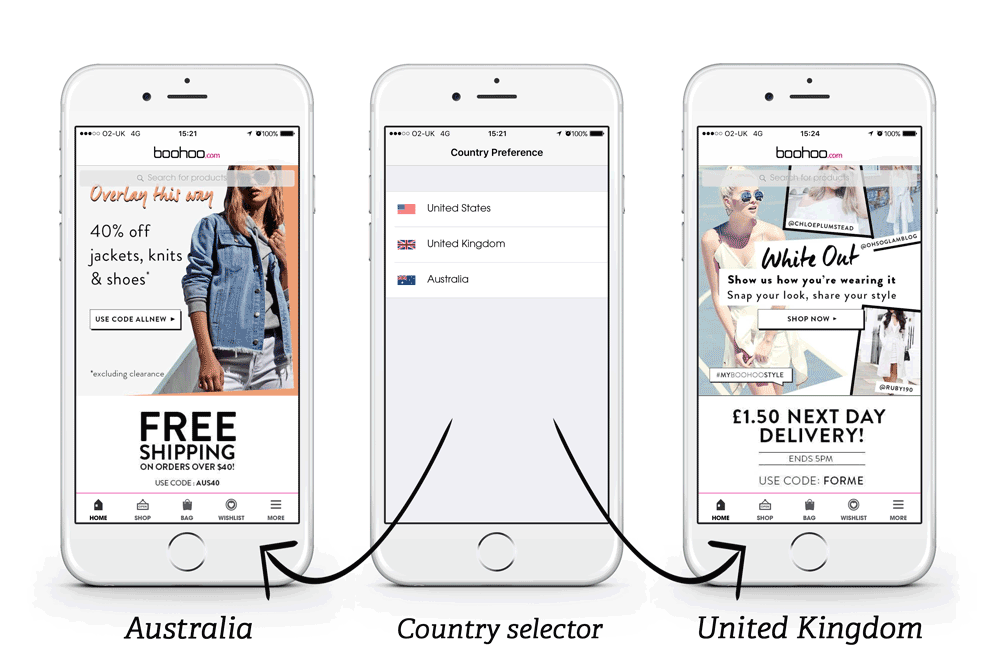 The newly launched boohoo app is a great example of a scalable universal app: users can switch countries and will encounter different content depending on the country. It is available for download in the UK, US and Australia, and features a country selector. When more regions are added, they will be shown in the country selector and the app made available in the relevant app stores.
Adjust everything
A CMS for every territory
We'll equip you with a content management system for each app territory. This means internal teams can provide a completely tailored experience for each country or region: different banners, promotions, product categories, lookbooks, store finders and more.
Internal teams will be able to:
Schedule content in the app's local time
Feature country-specific sizes and size guides
Show territory-specific return policies and terms & conditions
Link to the relevant social media accounts
To give an example: making changes to the Chinese app won't affect the UK app, meaning it will be super easy to run territory-exclusive campaigns, and to appeal to each demographic in the right way.
We'll take care of the rest
Comprehensive language and currency support
We provide a localised app User Interface in languages from German to Chinese – out of the box. You can pre-set this, and in iOS it will change in the app depending on the language setting of the user's device.
You can also offer products in any currency. You aren't limited by payment provider.
The bottom line
This platform release gives you all the tools you need to strengthen your internationalisation strategy and maximise revenue.
Want to know how you can implement it in your business? Get in touch with us to find out more.