Contact Form Shortcode Error: Form 15 does not exist
How can retailers maximise engagement on their apps? We spoke to Nick Podmore, VP Partners at messaging and data network Donky, about how to supercharge app re-engagement. These are his five top tips for what you should avoid if you want an indispensable app that your customers love to use, time and time again. To find out more, watch our webinar.
1. It didn't make a good first impression
One of the main reasons a user will return to an app is because it is beautifully designed and easy to use from the onset. With so many demands on our time and so much competition, you really do only get one shot at a first impression. Avoid falling at the first hurdle by ensuring your app features striking content from day one, and test the app extensively before launch.
Great first impressions look like this:


2. The user forgot the app existed
It is naïve to think that after a single use, your app will be moved to a user's first home screen.
A typical user has 29 apps and uses just 10 on a daily basis. New apps are quickly judged and easily forgotten. Make sure you've put in place a set of engagement mechanisms to remind the user of your app's presence on their device. This is where push messages come into their own.
Another great way to remind your users of your app's existence is to build a community outside of your app. Social media isn't just a great tool for user acquisition – the rewards for effort spent community building can be huge, both in terms of word of mouth advertising and user retention. How can you use your social media presence to tempt users to revisit the app?
3. The user grew bored of the app
However well-loved your app is, it will only retain users over time if it stays fresh. Use updates to remind customers about your app and demonstrate that you're continuing to improve it. Be sure to include details of any changes you've made in the update description to highlight what customers can look forward to and further encourage them to open the app.
4. The user had a bad experience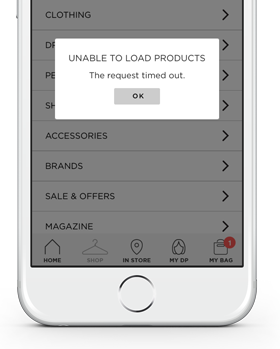 A bad experience.
Expectations are high and tolerance levels are low amongst the consumers of today. Whilst extensive testing should ensure your app is free of bugs and glitches, problems can still sometimes occur.
How compatible is your app with different devices for example? Will your app still work on the operating system due to launch in the next months?
Research shows that if a user has a bad experience using your app, not only are they unlikely to return to it, they're also less likely to purchase from your company and more likely to switch to a competitor's app, give your app a poor rating and tell others about their experience.
5. The user didn't find anything to engage with
How well do you truly understand what customers want from your mobile app? Likewise why they use it, how they use it, and when they use it? If you are uncertain, consider further consumer research. The key to engagement lies in an understanding of consumer tastes, preferences and behaviours. Use focus groups to find out more about how your customers are using your app, and make use of the valuable feedback submitted through app reviews.
Watch the webinar: App seduction – using your retail app to amplify engagement
To find out more about how to captivate and re-engage your retail app audience, watch our on-demand webinar with Donky. It covers best practice tips for how to captivate and re-engage your app audience, including examples from successful retailers across the US and UK. You will learn about:
How to understand your mobile audience: when are your customers most likely to engage?
How to get messaging right without re-inventing the wheel.
Advanced methods, including audience segmentation, reward programmes and post-purchase messaging.
Case studies from retailers like Beyond the Rack and GAP.
Just enter your details below to watch.
About
Donky is a digital innovator and leader with a 15 year track record of providing consumer engagement and mobile solutions to clients worldwide. The technology has been adopted by some of the world's largest ESP's, MSP's and Agencies including Havas, Experian, SDL, Strongview/Selligent, Zeta Interactive, Dotmailer & Communicator Corp. Clients include household names such as GAP, Pets At Home, Dixons Carphone, Slendertone and Camelot.
www.donkynetworks.com