We're excited to announce that Missguided, one of the UK's largest fast fashion etailers, just launched its first transactional shopping app on the Poq app commerce platform. The app is fully transactional and offers a Tinder-style shopping app feature called "Swipe to Hype."
The app is available for download in the UK and is the first of its kind to offer an exclusively own-brand Tinder-style shopping feature.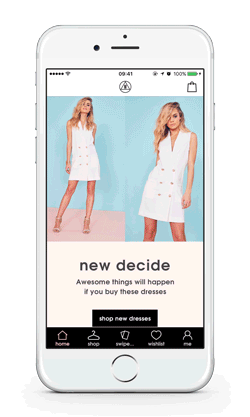 Nitin Passi, the Founder and CEO of Missguided, commented: "Our customer has been asking for a shopping app for a while and we wanted to ensure we delivered something that offered more than our mobile site. The app is being treated as its own channel that we are growing as part of our multichannel strategy. We look forward to continuing our partnership with Poq and will continue to develop technology to support our online and offline strategy."
The launch of the app follows reports that Missguided will expand its physical retail business with a move from concessions to own-brand stores.
"The next generation of customers uses apps for everything," remarked Oyvind Henriksen, CEO and Co-Founder of Poq, "Great apps are often either very engaging – like Instagram and Pinterest – or they are super convenient – like Uber and Citymapper.
"Missguided has built a retail app on our platform that combines both of these attributes: it is extremely convenient and deeply engaging. This is the perfect example of what a cutting-edge retail app can offer: Customers are always logged in to an addictive and personalised shopping experience, and can check out using just their fingerprint."
Download the app here.
The Missguided app in the media
"The new offering is fully transactional and cements the brand's desire to place mobile at the heart of its multichannel mix." – Rebecca Stewart, The Drum.
"As the retailer's main demographic is millennial women, the [Swipe to Hype] feature is a smart idea in appealing to them. The experience also showcases products in a more intimate way in which users must engage with the product." – Brielle Jaekel, Mobile Commerce Daily.
"Now consumers expect apps and expect a great experience from them, often above and beyond just researching and buying. […] To make one retailer app stand out above another will require a charge towards innovative features that make the app more desirable. And it is going to be youth brands that lead this charge. It is already happening with the likes of Missguided." – Paul Skeldon, Internet Retailing.