This year's Black Friday was truly mobile, with 47% of online traffic coming from mobile. As Retail Week reported, offering efficient mobile apps was vital for capitalising on the shopping surge. Many retailers kicked off their Black Friday deals early in the week and continued them on even past Monday. To bring you some key app commerce facts for Black Friday, we took a look at the behaviour of over 570,000 shoppers using Poq-powered apps throughout that time.
1. Black Friday beats Cyber Monday
While the UK saw the best online results during Black Friday (read more in Drapers), online shopping in the US was reportedly highest on Cyber Monday (read more at CNBC). We saw that Black Friday generated the most traffic and the highest revenue out of the whole week. App revenue was nearly 200% higher on November 27 than it was for the average time between November 23 to November 30. Traffic was 147% higher.


2. Duvet driven revenue: Early mornings and late nights were most profitable
App revenues were highest at 7am and 11pm, meaning most shoppers were probably placing orders from their beds. These times of the day drove revenues that were 184% and 188% higher than the average revenue per hour during Black Friday.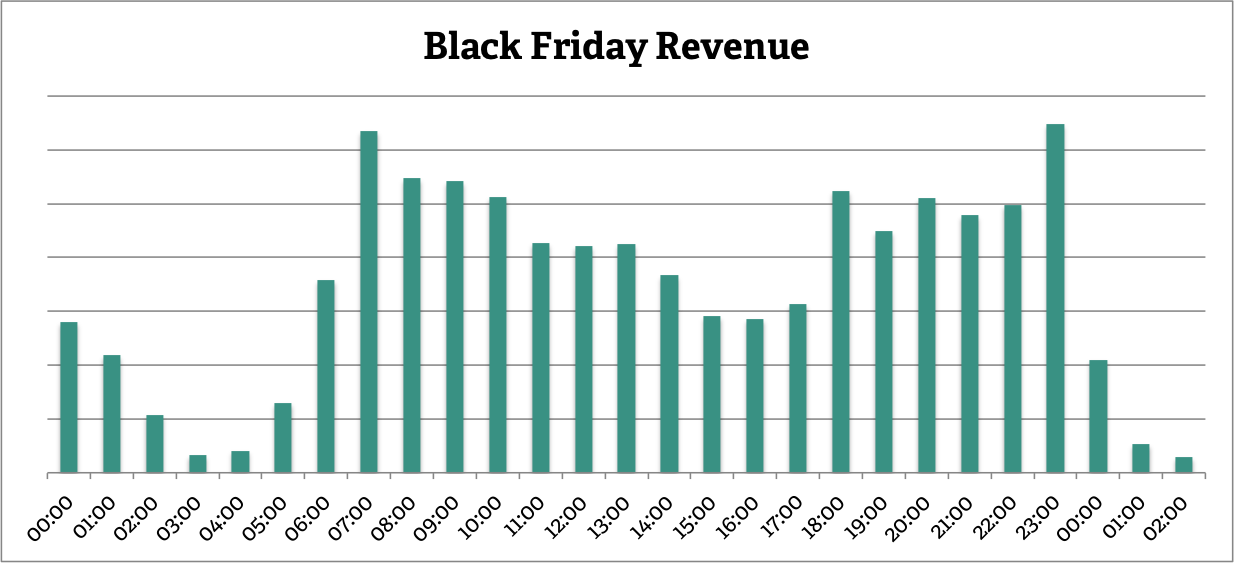 3. Apps eat desktop: 60% higher conversion rates
Several retailers saw their Poq-powered apps drive the highest conversion rates of any of their online channels. The app conversion rates were generally 60% higher than desktop traffic. See the below graph for the average conversion rate per hour across the platform. Shoppers were most likely to make a purchase at 11pm on Black Friday.

4. Appy Black Friday! 2x more app shoppers than mobile web shoppers
One of our clients' apps peaked at 12,000 concurrent users. That's twice as many users as their mobile website at the time. Pretty impressive!
Many retail websites experienced problems on Black Friday. We're proud to say that we experienced no downtime. The cloud nature of our platform ensured that our client's apps were available throughout the entire sales period. But we did have to increase our server count by 10x on Friday. Long live the cloud!