For this release, we focused on enriching the app marketing possibilities that the Poq platform supports. We added cutting-edge tools that increase engagement and supercharge customer acquisition.
Engagement
Augmented Reality
This will help to take omnichannel engagement and shopping to new heights. From catalogue images to billboards, any content can be made shoppable with our new Augmented Reality functionality. This is made possible through our integration with the Layar AR browser. Retailers on the Poq platform can simply turn this functionality on, and use the Layar creator to create completely bespoke campaigns and content.
Turning on the AR functionality will add a scanning feature to the app. This uses the device camera to allow shoppers to scan content, and will in turn trigger immersive content such as videos, music, 3D product previews, recipes and shoppable lookbooks, to appear.
It requires no development work and empowers in-house content teams to create entirely bespoke campaigns. Read more about how House of Fraser took advantage of our new feature in Mobile Commerce Daily.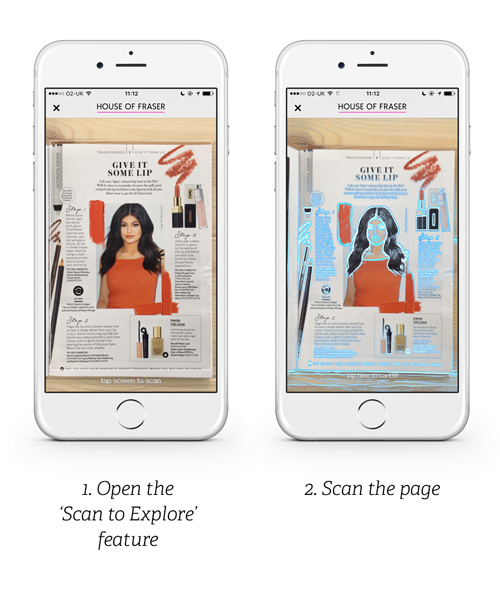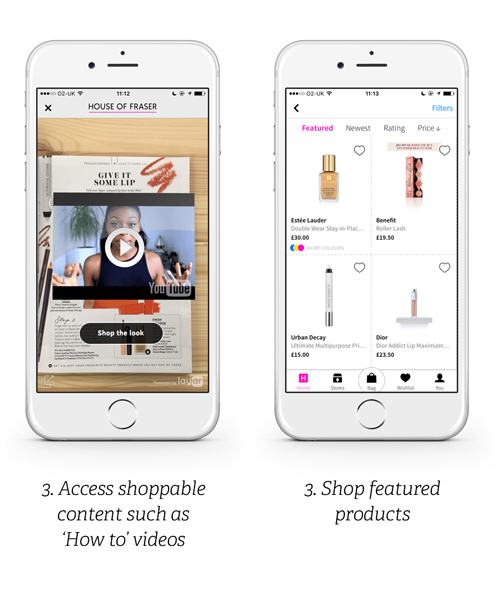 Revamped store finder
The most popular in-store features are the store stock checker and the store finder (read more about this in our app commerce report). Compared to the average app shopper, users who take advantage of the store finder place higher orders and browse longer.
In light of this, we revamped the store finder to make it more engaging than ever before. It now includes three tabs:
Nearby: Stores listed by nearest location.
City: Stores listed by city.
Map: Stores pinned on a map.
Acquisition
Deep linking
The best way to funnel traffic to an app is by sending shoppers directly to relevant content within the app. Apps that support deep linking allow retailers to do just that. The platform now automatically supports deep linking for all apps running on it. Retailers with Poq-powered apps can now deep link to any part of their apps, including:
Search results for specific terms
Product display pages
Product category pages
Bespoke app pages
Wishlists and more
In conjunction with deep linking, we have also enabled App Indexing through Google's App Indexing API, giving a boost to retailer's overall search engine optimisation. Read more about Google's push to extend influence to apps at Econsultancy.
Check out a brief history of deep linking on TechCrunch.
User acquisition
We have also introduced more marketing campaign tracking functionality to the platform. The integration with the Tune Marketing Console allows retailers to track and optimise campaign success for paid and organic acquisition. Marketers can see the success of a campaign in relation to in-app events that occur for installed apps, including app opens, purchases made on the app, and more. This new addition means that retailers on the Poq platform can use the same tools to drive traffic to their app, as they use for their website. Other actions that are possible through the Marketing Console include:
Creating deferred deep links, which will send users to the app store page if they don't have the app in question installed
Keyword analysis for the app store, including adding competitors to watch
Media buying integrations
Audience segmentation for re-engagement