Our developer team made some pioneering changes to the platform for our Summer release. This update is a complete rebuild of the native iOS part of our platform, shifting our clients' iOS apps to Apple's cutting-edge new programming language: Swift! Read more about why Swift is so special in our post here. In short: retailers running their apps on the Poq platform will be at the forefront of app development – their apps will be faster, less conducive to bugs and more intuitive to use.
With this refresh, we elevated the iOS feature set to be on feature parity with desktop websites. And we also equipped our clients with a more crisp design framework. The new platform release empowers in-house teams to design completely bespoke apps, without having to code.
The key improvements:
New functionality
Segmented push with Urban Airship
Push notifications are great for re-engaging customers. Segmented push notifications with Urban Airship take this even further, bringing re-targeting to apps. They make it possible to send highly-personalised messages – tailored exactly to the behaviour and preferences of each user. Retailers can send automated messages to the customers phone based on actions like a product being in the wish list for more than 5 days, or an abandoned shopping bag. Basically any action can serve as a segment. Read more about the push notification hook and other benefits of well-executed segmented push in our piece about turning push notifications into revenue.
New design
Customisation options
Seasonal screen banner
A full-screen image can now be set to appear upon opening the app. Set different images for iPhone and iPad to make the impact more channel-specific. The images can be changed without having to perform an app update. It's a great feature for setting the mood and promoting seasonal campaigns.
Tab bar
We've made the apps a lot more customisable. One aspect of this is the navigation bar at the bottom of the app: it can now be fully customised – icons, colours, fonts and sections of the app that it links to. It's never been easier to create an app that exactly adheres to branding principles and has great UX, without having to develop a bespoke app design. Also customisable: the animation that spices up the loading process.
UX enhancements
Interactive collapsing menus
This one is a gamechanger. Customers no longer have to tap through categories via different screens. The menu now automatically collapses at a tap – revealing subcategories without changing screens. This means that users won't have to tap back and forth through extra screens to get a clearer overview of different product categories and subcategories. The result: faster, more intuitive shopping that facilitates discovery as well as targeted browsing.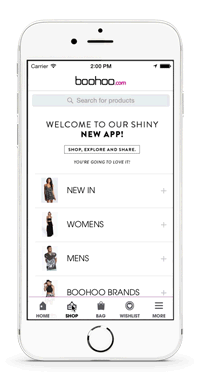 Non-intrusive navigation
The top navigation bar now graciously fades out when customers scroll through the product list page, making the experience in the product list page more immersive.
Infinite scroll
Want Pinterest-style browsing? We've enabled infinite scroll for product categories that are rich in SKUs so that the browsing flow is no longer interrupted by having to change pages.
Impulsive wish-listing
Customers can now add products to their wishlist straight from the product list page, rather than having to tap through to the product detail page.
Read more about the benefits of the wishlist function, including how it supports re-targeting to an offline store and increasing orders, in our Q1 platform report.
Sleek shopping basket
The shopping basket will now feature larger product preview images and include an item quantity editor.
Shopping improvements
Sort & filter
In our Spring platform release, we added filter and sort mechanisms to Android. This release sees the introduction of sort and filter to iOS. Shoppers can narrow down their browsing by adjusting the filter according to brand, colour, size and price range. They can also sort the product feed by featured products, newest products, rating and price.
Search history
We've improved the accuracy of our search again. And now, apps will also save a search history that shows up each time a customer searches.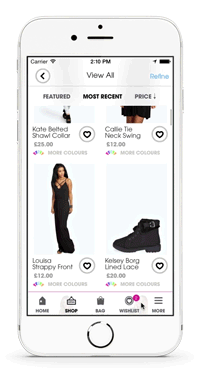 Streamlined tracking
The platform now tracks the complete order journey, including order numbers. This means you will be able to map out purchases across channels and find out which customers were added to your customer base thanks to the app.